Rat Snake - Yellow
Alternative Name
Chicken Snake, Yellow Ratsnake Scientific Name: Elaphe obsoleta quadrivittata

Basic Info

The Yellow Ratsnake grows from about four and a half feet in length to over six feet! They have keeled scales and range from bright yellow to dun, with four longitudinal stripes of dark brown or black. Yellow Ratsnakes have black tongues. Juveniles may be blotchy in color with pale or absent stripes, but as they grow they develop stripes and lose the blotching. Usually Yellow Ratsnakes are about two inches in diameter.

Health

Because they are native to the warm Southern states of North America, during the day, Yellow Ratsnakes will require a cage temperature of about 80 degrees Fahrenheit, with a basking area about 85 degrees. Drop the temperature to the low 70s at night. Yellow Ratsnakes are also arboreal, which means you should provide them with lots of sturdy branches and shelving so they can exercise. Breeding Yellow Ratsnakes are fairly easy to breed and some do not need a cooling period, judging breeding season instead by the length of daylight. Before breeding, the snakes should be very well fed. The female Yellow Ratsnake should be introduced into the male's cage and removed if they do not breed, being re-introduced after a few hours or each day until copulation occurs. March to May are prime breeding months for Yellow Ratsnakes. Using newspaper as a substrate in the breeding cage will allow you to look for drops of sperm, which will indicate that breeding, has occurred. Give the female a plastic nestbox filled with damp sphagnum moss, peat, or vermiculite. Sometimes, the Yellow Ratsnake will indicate she is ready to lay by shedding. After one to two months, if breeding was successful, the female Yellow Ratsnake will lay about 18 eggs, which will be stuck together in a clump. Do not try to separate the eggs from each other or the surface to which they are glued, as this will damage them. The eggs should be kept at about 85 degrees Fahrenheit with 75 to 100 percent humidity. Hatchlings, which are about eight to ten inches long, will emerge after about two to three months. The young Yellow Ratsnakes will shed frequently and should be fed on pinkie mice. Yellow Ratsnakes are good breeders and may double clutch.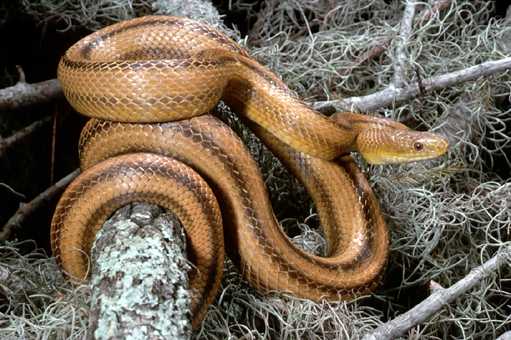 Habitat
They especially love the orange groves, farmland, and abandoned barns and buildings of Florida's agricultural and pasturelands, where small rodents and birds abound.
Behavior
As a beginner looking to become a better herpetologist, the Yellow Ratsnake is the perfect step toward intermediary skills! Yellow Ratsnakes are also known as Chicken Snakes, because they are not strangers to chicken thievery, loving especially the chicks. Also true to the name "Yellow Ratsnake", they love rats and other small prey like tree frogs or lizards. Yellow Rat Snakes are mainly active at night, though occasionally in the cooler months will become diurnal. Yellow Ratsnakes are also arboreal, which means you should provide them with lots of sturdy branches and shelving so they can exercise. The Yellow Ratsnake is known for its aggressive behavior. Care should be taken when handling this snake as it is often nippy. When they feel threatened, Chicken Snakes vibrate their tails to imitate Rattlesnakes, and if cornered, will rear up and try to strike.
Origin
North America
History
Yellow Rat Snakes are found in the southern coastal states of the United States, especially Florida and Georgia, where they inhabit forests and swamps.
Common Foods
they love rats and other small prey like tree frogs or lizards